See on Scoop.it – GEP Education for a Sustainable Future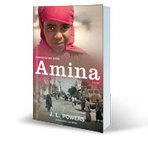 The series "Through My Eyes invites young readers to enter the fragile worlds of children living in contemporary war zones. Every day in an increasing number of countries, children are desperately trying to survive as their families and their whole way of life is destroyed by war. This new series is a tribute to such children and the themes of courage, determination, triumph and perseverance will inspire, challenge and engage young readers, creating greater cross cultural understanding and informed empathy.
Several stories set in the World Wars have been written for younger readers but very little has been published about more contemporary conflicts and those within Asian settings. War affects the old and the young, the rich and the poor, the boy or girl and these stories will appeal to all readers." (www.throughmyeyesbooks.com.au)
Global Education Project, Victoria's insight:
This series is inspiring and powerful.
The unique cultural setting and multiplicity of contemporary global themes presented in these stories have strong relevance for the development of the knowledge, skills and behaviours of the following General Capabilities, particularly through the use of Inquiry Learning:
Intercultural understanding
Personal and social capability
Ethical understanding
Critical and creative thinking
Information and Communication Technology (ICT) capability
Some of the stories are set in the Asian region supporting the Cross-curriculum priority of Asia and Australia's engagement with Asia and the development of 'Asia literacy'. The opportunity to explore country and place, people, identity and culture ensures the relevance of this text for inclusion in the Geography and History learning areas of the Australian Curriculum.
The website provides a range of support material for middle years teachers.
See on throughmyeyesbooks.com.au